Immersive "Spaghetti Western" Night
IMMERSIVE CINEMA ///
Come in costume and prepare for a new cinema experience. From the meeting point you will move in procession, disguised and on foot, to the place where the film will be screened. But attention, the outing will not be all relaxation… upon arrival, an immersion in the world of the Far West awaits you. Then, comfortably settled in deckchairs, you'll watch a cult spaghetti western directed by Sergio Leone: My Name is Nobody, with Henry Fonda and Terence Hill.
A western such as you have never experienced, in the Happy City Lab manner.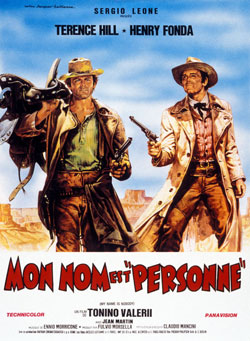 Mon Nom est Personne
From Tonino Valerii, Sergio Leone - With Henry Fonda, Terence Hill
Music by Ennio Morricone
1973 - 1h 57
French version !!
A young, easygoing gunman (Hill) worships and competes with an old gunfighter (Fonda) who only wants to retire.
In the context of the Printemps Carougeois 2017: http://www.printemps-carougeois.ch/spectacles/western